1. The Controversial Role of Technology in Healthcare
While it is recognised that innovation leads to financial benefits, technological innovation has also been a key driving force behind modern healthcare for decades providing new types of treatment, personal health monitoring, and telemedicine opportunities. However, such researchers as McKelvey and Saemundsson (2021) suggest that there exists a largely understudied 'dark side' of this relationship. As shown in the following conceptual framework by these authors, technology and healthcare systems operate within a closed-cycle model where new solutions in clinical research, medical research, and clinical practice inevitably affect policymakers, medical practitioners, and various educational institutions. However, this implies that this advancement will inevitably result in both positive and negative consequences, which creates multiple risks for individual well-being and societies at large (Coad et al., 2021). The following two sections explore the positive and negative impacts of technological innovation on health.
Figure 1: Negative Consequences of Technological Innovation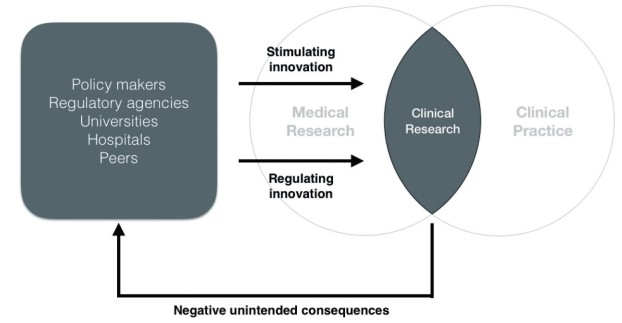 Source: McKelvey and Saemundsson (2021, p.84)
2. Key Positive Impacts of Technological Innovation
The ongoing COVID-19 pandemic has demonstrated a large number of positive effects produced by the spread of technological innovation in both medical and non-medical sectors of the economy (Budd et al., 2020). On the one hand, modern solutions such as 3d printing allowed practitioners to quickly repair older ventilatory machines and increase the stocks of critical spare parts. Additionally, the popularity of social media and online communication allowed the authorities to control the spread of the disease and to promptly distribute relevant information about COVID-19 prevention measures as well as the availability of medical facilities or vaccines in certain areas. On the other hand, the healthcare crisis has further stimulated the utilisation of telemedicine and online sales (Germani and Biller-Andorno, 2021). With many people staying in lockdown areas, they could report their symptoms to online support specialists or order medicinal drugs online without risking their own lives and the lives of others. These optimisations also provided for substantial optimisations across the whole healthcare system allowing medical practitioners to prioritise certain tasks and handle the crisis more effectively.
Figure 2: Interconnectedness of Digital Technologies and Public Health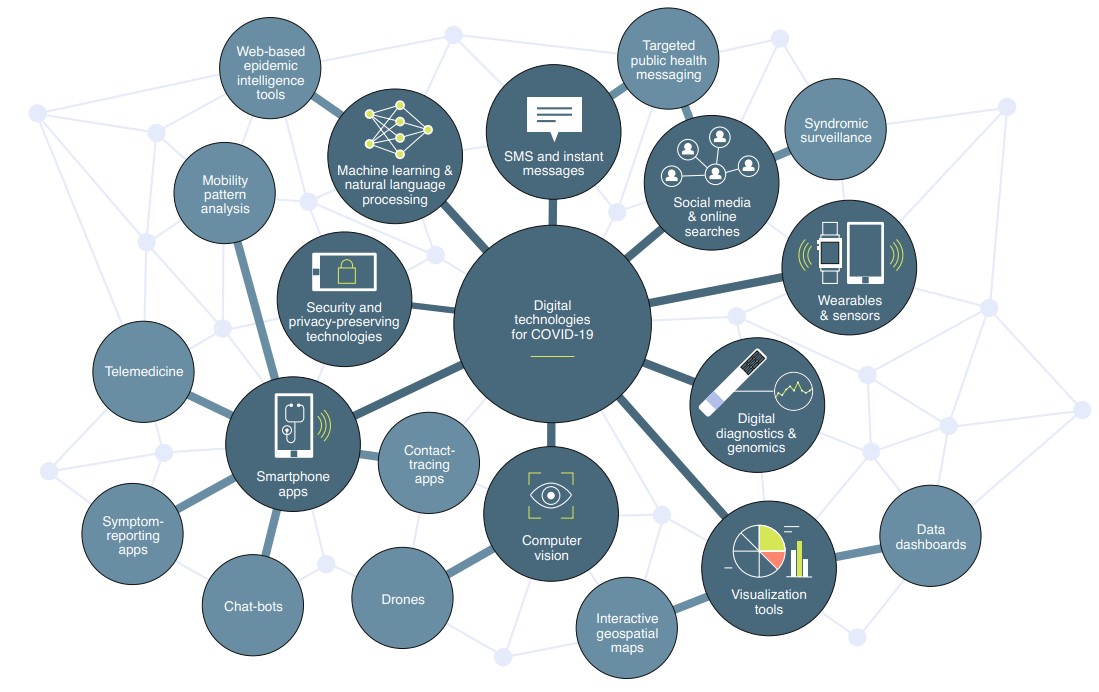 Source: Budd et al. (2020, p.1185)
3. Key Negative Impacts of Technological Innovation
At the same time, the analysis of Hu and Yao (2021) revealed that technological innovation could have multiple detrimental effects, which confirmed the assumptions voiced by McKelvey and Saemundsson (2021). On the one hand, online media frequently serves as a platform for distributing fake news or incorrect information. Such researchers as Germani and Biller-Andorno (2021) call these effects an 'infodemic' as individual publications from popular influencers such as certain anti-vaccination supporters can get shared by thousands of people. This effect was especially prominent in the case of Donald Trump making highly controversial statements regarding the scope of the pandemic and associated risks, which led to an extreme 'death toll' exceeding 400,000+ US citizens. On the other hand, the increasing spread of digital technologies creates such additional threats as violations of privacy, overconfidence, and unnecessary expenses (McKelvey and Saemundsson, 2021). For example, some patients may underestimate the severity of their symptoms while using some self-diagnosis online tools while others may be convinced to purchase unnecessary treatments and supplements with disputable effectiveness such as 'liposomal vitamin C', 'pterostilbene' or 'alternative medicine treatments' widely criticised by FDA, MHRA, and other governmental agencies.
References
Budd, J., Miller, B., Manning, E., Lampos, V., Zhuang, M., Edelstein, M., Rees, G., Emery, V., Stevens, M., Keegan, N. and Short, M. (2020) "Digital technologies in the public-health response to COVID-19", Nature Medicine, 26 (8), pp. 1183-1192.
Coad, A., Nightingale, P., Stilgoe, J. and Vezzani, A. (2021) "The dark side of innovation", Industry and Innovation, 28 (1), pp. 102-112.
Germani, F. and Biller-Andorno, N. (2021) "The anti-vaccination infodemic on social media: A behavioral analysis", PloS one, 16 (3), pp. 1-10.
Hu, G. and Yao, L. (2021) "Do human capital investment and technological innovation have a permanent effect on population health? An asymmetric analysis of BRICS economies", Frontiers in Public Health, 9 (1), pp. 1-9.
McKelvey, M. and Saemundsson, R. (2021) "The grey zones of technological innovation: negative unintended consequences as a counterbalance to novelty", Industry and Innovation, 28 (1), pp. 79-101.