Introduction
In recent years, human resource (HR) managers had to deal with a large number of challenges ranging from the growing gig economy to COVID-19 forcing the global adoption of remote work practices (Statista, 2023). This rapidly changing environment is also characterised by adverse contextual factors such as declining economies, international conflicts, and other elements increasing the significance of high-quality human resource management (HRM). With that being said, reaching professionalism in any sphere is not possible without clarifying the constituent elements and definitions associated with such advancement. Boon et al. (2019) noted that HR expertise is a difficult concept due to the involvement of multiple elements such as the understanding of ethical rules and best practices in recruitment, project management skills, leadership skills, soft skills, and other instruments that are rarely associated with a high level of specialist advancement in other spheres. This essay aims to explore what constitutes HR professionalism and how can HR professionals appraise their effectiveness from theoretical and practitioner standpoints.
HR Professionalism Definitions
According to the CIPD (2017) definition, HR professionalism is generally defined as a commitment to a certain profession involving the intention to perform one's activities within its context in a legitimate and competent manner. This intention usually involves a deep understanding of the values associated with this occupation and a sense of meaning found in one's daily actions related to it. Professionalism is also deemed as an alignment between a person's identity and the performance of work functions as a part of this identity that constructs it in the process of their fulfilment (Hamouche, 2021). In this scenario, correct behaviours are closely linked with internal integrity as a person that is reflected in a responsible, ethical, and sustainable attitude to the aforementioned activities that goes beyond mere performance and financial success. At the same time, Armstrong and Taylor (2020) expanded this definition by highlighting compliance with standards as a basic and sufficient minimum threshold for professionalism. According to them, expert practitioners possessed sufficient knowledge and expertise allowing them to refer to fundamental concepts and recognised best practices in their field to follow the interest of business owners in their line of work. As a result, they could produce superior results without violating regulatory norms or widespread ethical standards.
The CIPD profession map for people professions shown below highlights a number of elements defining professionalism in this sphere (CIPD, 2023a). The activities of an expert need to be driven by an internal purpose and aligned with evidence, outcomes, and principles. This core element is value-driven and defines the collective identity of all professionals pursuing their careers in a certain profession. In terms of principles, CIPD highlights the significance of work as a purposeful activity, genuine care for people, and the importance of expertise (CIPD, 2023b). These elements ensure that professionals deliver high-quality HR services to their customers while being able to develop their skills in an inclusive and supportive professional environment. This concept is supported by the evidence-based practice principle implying the need to always use high-quality data, the latest findings in academic research and behavioural science, and all information observed in real practice and conversations with stakeholders (CIPD, 2023c). Finally, the outcomes-driven element of professionalism involves the need to focus on the long-term implications of HR specialists' actions for their own lives, the work they do or the people that surround them. In this aspect, professionals seek to maximise the long-term gains for all involved parties and use their competencies to make the world a better place.
Figure 1: Profession Map for People Professions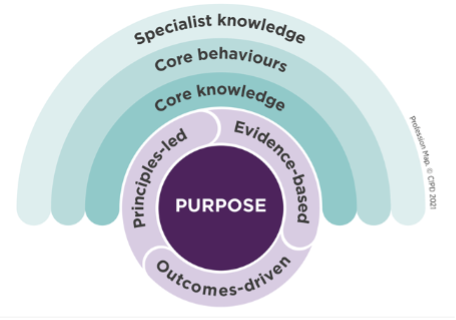 Source: CIPD (2023a, n.p.)
In terms of external elements of the model, core knowledge incorporates the spheres of technology and people, people practice, culture and behaviour, and a number of additional parts reflecting the understanding of theories underpinning people professions such as HR as well as the recent academic research in this sphere (CIPD, 2023d). This information forms the expertise of practitioners allowing them to make informed decisions. Core behaviours include 8 main elements, namely being insights-focused, showing a passion for learning, following ethical practices, working inclusively, valuing people, using situational decision-making, demonstrating commercial drive, and showing professional courage and influence (CIPD, 2023e). These universal activities define effective professionals in HR and other people professions that possess universal skills allowing them to maintain integrity and expertise in any situation. Finally, the specialist knowledge dimension reflects a number of areas including resourcing, people analytics, learning and development, employee experience, employee relations, well-being, talent management, and several others (CIPD, 2023f). These spheres outline the competencies and soft skills necessary to succeed as an industry professional and a part of a team seeking professional advancement and career progress.
At the same time, CIPD (2013) also suggested an alternative framework for appraising professionalism in people management practices earlier in 2013. This model shown in the figure below is subdivided into three layers. The middle 'professional areas' circle includes 10 elements, namely employee relations, service delivery and information, organisation design, organisation development, resourcing and talent planning, learning and development, performance and reward, and employee engagement. As implied by their names, they allow individuals and organisations to understand their limitations and areas for growth, address the identified gaps through skills advancement, and achieve higher levels of effectiveness through internal and external motivation methods (Kavanagh and Johnson, 2017). While some of these spheres may be more applicable to companies, they also reflect the elements that an expert needs to seek in prospective employers. The absence of such elements may be seen as a limiting factor on a path to personal and professional advancement.
Figure 2: HR Professionalism Map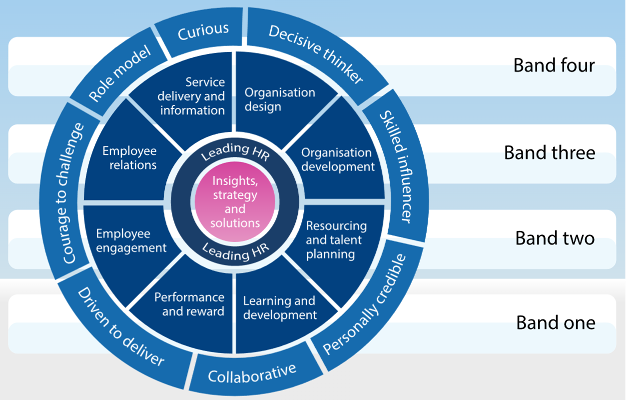 Source: CIPD (2013, n.p.)
The outer circle demonstrates eight key behaviours shared by all industry professionals according to CIPD (2013). They include the courage to challenge, being a role model, curiosity, decisiveness, skilled influence, personal credibility, being collaborative with others, and drive to deliver. These elements may be seen as a reflection of soft skills as well as professional competencies described by the previous model. For example, people showing courage to challenge and skilled influence have the confidence to challenge others and promote their point of view even in unfamiliar circumstances via the use of their professional competencies. Similarly, collaboration and personal credibility may be invaluable for teamwork and the creation of organisational synergies emerging from the combination of skills with other people. As noted by Sanders et al. (2021), soft skills are an inseparable element of professionalism in most 'people professions' such as HR since the effectiveness of consultants and human resource managers is largely determined by their capability to promote their vision to a wide range of stakeholders in modern companies. The lack of assertiveness and other qualities listed above may hinder their performance even in the case of strong expertise and skills in these fields.
Finally, the concept of four bands links the ten aforementioned professional areas and the eight aforementioned behaviours in a holistic professionalism development plan (CIPD, 2013). The first stage includes the capability to support colleagues with administrative tasks, maintain a customer-centric orientation, and effectively manage data and information provided by different stakeholders. The second band is focused on the advancement of HR-related competencies at both individual and group levels. Specialists reaching this stage have to be able to organise business processes, evaluate their effectiveness, and offer solutions to emerging problems (Takeuchi et al., 2022). They have to possess flexibility in handling client situations and providing recommendations. The third band reflects the competencies possessed by professional HR consultants and partners involved in understanding the business realities, developing innovative solutions, performing risk analyses, and providing ideas and solutions to customers (Green, 2019). The fourth band is primarily based on leadership skills and competencies. At this stage, an HR professional has to develop organisational and HRM strategies, lead organisations, and develop partnership relationships with customers that are focused on long-term cooperation strategies rather than individual cases.
HR Effectiveness and Efficiency
The aforementioned theoretical models provide a good overview of the skills and competencies forming HR professionalism (Stewart and Brown, 2019). However, it may be difficult to measure progress towards these goals in the absence of tangible metrics in these spheres and centralised certifications. This section explores the key performance indicators (KPIs) that are used by professional HR managers to appraise their effectiveness and identify whether newly acquired skills and competencies have a positive impact on it. The first metric characterising the level of analysed competencies is the time to hire and cost to hire (Storey et al., 2019). While these KPIs may partially depend on environmental factors such as the changing situation in the labour market, they provide a solid starting point for the appraisal of HR professionals' effectiveness and efficiency. If the acquired skills and competencies decrease the speed of hiring new employees and the amount of associated costs, this implies that these new instruments have been beneficial for increasing their performance.
The second possible set of indicators includes the cost of human resource management per employee and revenue per employee (Coron, 2020). While these two factors are not necessarily linked due to different salary levels, their longitudinal changes may be seen as an indirect indicator of improved HRM effectiveness and efficiency. On the one hand, professional HR specialists can obtain the desired results with lower investments due to greater knowledge and expertise. These elements reduce the amount of guesswork and experimentation and allow practitioners to offer effective solutions for each context right away. On the other hand, they contribute to the effective use of organisational resources and the achievement of greater employee-organisation fit. As noted by such scholars as Herzberg (2017), an optimal combination of hygiene factors and motivators ensures high levels of job satisfaction and performance. Hence, an HR capable of applying the aforementioned instruments for learning more about staff needs and addressing them can achieve a better ROI ratio than a less experienced specialist in the same context.
The third possible indicator of HR professionalism in terms of effectiveness and efficiency is the level of staff turnover and absenteeism (Nankervis et al., 2019). As noted earlier, effective motivation strategies can ensure high levels of job satisfaction leading to good performance. In the long-term perspective, this contributes to increased loyalty levels as employees want to build their careers in this organisation and see that their efforts are properly recognised and rewarded. While the effects of greater HR professionalism may be delayed in this sphere, it has high significance in the highly competitive labour market where highly skilled specialists can determine organisational success or failure. Finally, the fourth possible measure of effectiveness and efficiency is the degree of regulatory compliance (Ghatak, 2022). The absence of labour-related lawsuits, continuously improving results of anonymous feedback collection from employees, and positive outcomes of internal and external audits in this sphere may be a good indicator of increasing HR professionalism from the standpoint of tangible improvements for the firm.
Conclusion
HR professionalism is a complex concept formed by a large number of interrelated factors (CIPD, 2023a). This element has multiple tiers combining the knowledge of principles and best practices in this field with specialist expertise, core knowledge, and soft skills. Both analysed models from CIPD indicate that the advancement of an HR professional occurs in multiple spheres forming tiers. More specifically, the 2013 model (CIPD, 2013) indicates that the growth of expertise is linked with both individual competencies and teamwork and leadership competencies. This supports the standpoint voiced by such authors as Kavanagh and Johnson (2017) and Sanders et al. (2021) regarding the increasing significance of soft skills for HRM professionals. With that being said, none of the analysed KPI options may be deemed as a comprehensive indicator showing the progress of HR specialists in gaining expertise. Hence, it may be suggested that developing professionals should select several options for continuous monitoring as a reflection of their advancement (Coron, 2020). This approach will help them recognise positive short- and long-term improvements from gaining new skills and competencies or the lack thereof to flexibly adjust their growth strategies.
References
Armstrong, M. and Taylor, S. (2020) Armstrong's handbook of human resource management practice, London: Kogan Page Publishers.
Boon, C., Den Hartog, D. and Lepak, D. (2019) "A systematic review of human resource management systems and their measurement", Journal of Management, 45 (6), pp. 2498-2537.
CIPD (2013) "HR Professionalism Map", [online] Available at: https://www.cipd.co.uk/cipd-hr-profession/cipd-hr-profession-map/default.html [Accessed on 11 February 2023].
CIPD (2017) "HR professionalism: What do we stand for?", [online] Available at: https://www.cipd.co.uk/knowledge/strategy/hr/hr-professionalism-report [Accessed on 11 February 2023].
CIPD (2023a) "Explore the Profession Map", [online] Available at: https://peopleprofession.cipd.org/profession-map [Accessed on 11 February 2023].
CIPD (2023b) "Core Purpose", [online] Available at: https://peopleprofession.cipd.org/profession-map/core-purpose [Accessed on 11 February 2023].
CIPD (2023c) "Evidence-based", [online] Available at: https://peopleprofession.cipd.org/profession-map/core-purpose/evidence-based [Accessed on 11 February 2023].
CIPD (2023d) "Core knowledge", [online] Available at: https://peopleprofession.cipd.org/profession-map/core-knowledge [Accessed on 11 February 2023].
CIPD (2023e) "Core behaviours", [online] Available at: https://peopleprofession.cipd.org/profession-map/core-behaviours [Accessed on 11 February 2023].
CIPD (2023f) "Specialist knowledge", [online] Available at: https://peopleprofession.cipd.org/profession-map/specialist-knowledge [Accessed on 11 February 2023].
Coron, C. (2020) Quantifying Human Resources: Uses and Analyses, Hoboken: John Wiley & Sons.
Ghatak, R. (2022) People Analytics: Data to Decisions, Singapore: Springer.
Green, K. (2019) Competitive people strategy: How to attract, develop and retain the staff you need for business success, London: Kogan Page Publishers.
Hamouche, S. (2021) "Human resource management and the COVID-19 crisis: Implications, challenges, opportunities, and future organizational directions", Journal of Management & Organization, 1 (1), pp. 1-16.
Herzberg, F. (2017) Motivation to Work, London: Routledge.
Kavanagh, M. and Johnson, R. (2017) Human resource information systems: Basics, applications, and future directions, London: SAGE.
Nankervis, A., Baird, M., Coffey, J. and Shields, J. (2019) Human Resource Management, Boston: Cengage.
Sanders, K., Yang, H. and Patel, C. (2021) Handbook on HR process research, New York: Edward Elgar Publishing.
Statista (2023) "Human resources professionals strategies to accelerate employees' skill development worldwide 2021", [online] Available at: https://www.statista.com/statistics/1235402/hr-professionals-plans-to-accelerate-skill-development/ [Accessed on 12 February 2023].
Stewart, G. and Brown, K. (2019) Human Resource Management, Hoboken: John Wiley & Sons.
Storey, J., Ulrich, D. and Wright, P. (2019) Strategic human resource management: A research overview, London: Routledge.
Takeuchi, R., Gong, Y., Boon, C. and Jiang, K. (2022) Strategic Human Resource Management and Organizational Effectiveness, New York: Taylor & Francis.