Introduction
Dunkin Donuts is a US global chain selling doughnuts and coffee across 12,000+ locations in 42 countries (DD, 2023a). Its diversified product portfolio also includes a number of healthier options, which makes company offerings suitable for all audiences. As more and more people prefer to have their snacks on the go, the extensive menu of this company allows it to compete with established global brands in its sphere including Starbucks. Despite substantial rivalry in the sphere of fast food restaurants, Dunkin Donuts retains its significance for more than 70 years. As noted by Kuncoro and Suriani (2018), such outcomes are usually achieved by superior marketing strategies leading to sustainable competitive advantage. This essay aims to explore the key factors ensuring the success of Dunkin Donuts in its niche. This result is achieved by the analysis of this company's marketing mix, segmentation, targeting, and positioning (STP) choices, and other elements of its marketing strategy.
Marketing Mix
The marketing mix or 4Ps analysis presented below provides an overview of the marketing choices made by Dunkin Donuts in terms of its product, price, place, and promotion strategies (Badi, 2018).
Product
Dunkin Donuts primarily sells bagels, doughnuts, coffee, iced beverages, burgers, sandwiches, and soft drinks (Sandria et al., 2022). These products can be consumed right away at restaurants or carried as a takeaway order. This diversification has allowed the company to succeed during the COVID-19 pandemic as its consumers could use contactless pickup services as well as deliveries. A wide range of products stimulates future orders since consumers can enjoy a variety of beverages and side dishes that do not repeat over time.
Price
They are reasonably priced, which puts the brand in the mass-market segment (Alon et al. 2020). The global strategy in this sphere is based on substantial franchisee independence. As a result, foreign subsidiaries can make their own pricing decisions reflecting the purchasing capacity of their local buyers. This supports the firm's business model based on cost leadership and repeat sales. As consumers can afford daily visits to Dunkin Donuts restaurants, they are more willing to regularly buy its products as opposed to Starbucks and other premium-priced brands.
Place
Dunkin Donuts is present in 42 countries and operates via a network of quick-service restaurants (Kotabe and Helsen, 2022). They are present in locations with substantial traffic including supermarkets, airports, and gas stations. All of these outlets operate within franchise agreements with Dunkin Donuts providing branding schemes, training, and supervision. This allows the company to minimise its expansion risks by transferring them to its partners.
Promotion
Similar to Mcdonald's and Starbucks, Dunkin Donuts has an instantly recognisable colour scheme associated with this brand (Pride and Ferrell, 2019). The company also uses TV advertisements and has received praise from multiple marketing experts for its 'America runs on Dunkin' campaign and other successful advertisements. The loyalty programme transformed into digital smartphone apps is also beneficial for stimulating repeat sales.
Competitive Strategy
The competitive strategy of Dunkin Donuts can be characterised as cost leadership (Gillespie and Swan, 2021). This brand offers products with the best possible quality in a certain price range. In combination with a wide range of beverages and snacks, this attracts consumers interested in variety and savings. At the same time, its competitive advantage may be deemed sustainable due to a number of factors. On the one hand, Dunkin Donuts has a strong brand with a history dating back more than 70 years. This reduces the degree of rivalry from new entrants in the market since its offerings have a premium element making them appear 'reasonably priced' rather than 'cheap'. On the other hand, Dunkin Donuts offer good customer service and a large number of products suitable for all tastes and audience preferences (Wided, 2021). As a result, consumer lock-in is ensured by the capability to try multiple foods and beverages at an affordable price while saving more money through loyalty programmes. This wide range of options allows repeat customers to experiment with new or unusual combinations of products without exceeding their budget, which makes the use of competitive brands unnecessary from a variety-seeking standpoint.
Segmentation, Targeting, and Positioning
The following segmentation, targeting, and positioning analysis demonstrates how Dunkin Donuts prioritises the most lucrative customer groups they seek to establish long-term relationships with and what methods they utilise to achieve this purpose (Khandelwal et al., 2020).
Segmentation
From a demographic segmentation standpoint, Dunkin Donuts does not prioritise any specific category of customers (Goldstein, 2019). Its affordable pricing allows most prospective and existing clients to enjoy its offerings regularly. At the same time, it has a number of unique psychographic and behavioural segmentation choices. The brand primarily targets people who seek affordable beverages and snacks that they can consume on the go or use to replace traditional breakfasts. These customers include busy office professionals commuting to work, students looking for convenient lunch options, and other hard-working individuals, which is reflected in its US motto 'Keeping America running' (Pride and Ferrell, 2021). Dunkin Donuts prioritises fast servicing times and a wide range of readily available offerings allowing its clients to get their orders fast and take them with them, which proved especially beneficial during the COVID-19 pandemic. Additionally, a large number of diverse products increases more frequent visits and allows different people to make simultaneous orders even if their tastes differ significantly. Finally, the geographic segmentation of Dunkin Donuts is primarily focused on the US due to the large size of this country and its regulatory and economic homogeneity as shown in the following figure.
Figure 1: Dunkin Donuts Store Numbers by Region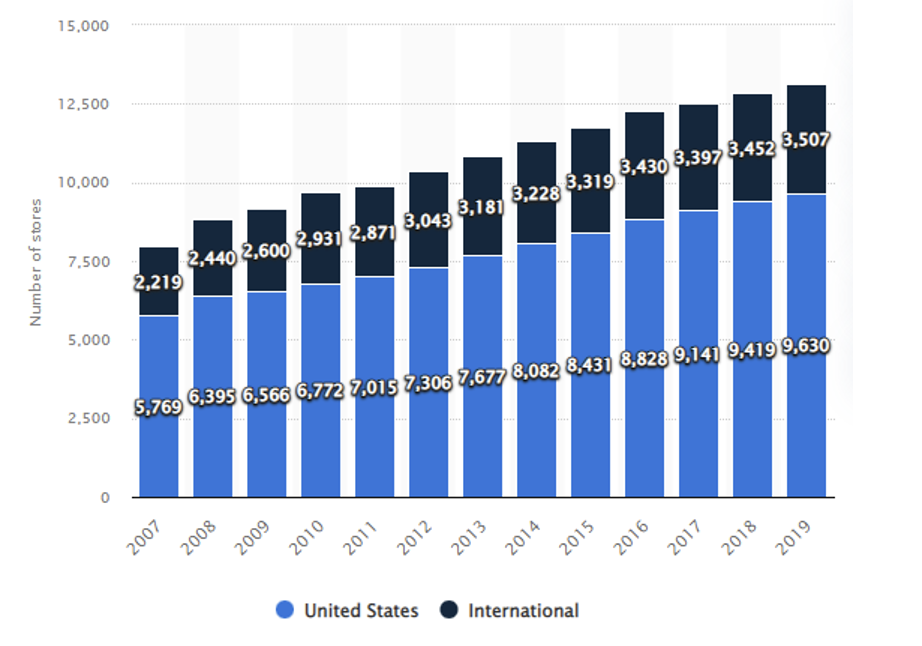 Source: Statista (2023, n.p.)
Targeting
The aforementioned two segments represent the core audience of Dunkin Donuts and should be prioritised in terms of marketing efforts in the future due to a number of reasons (Solomon et al., 2019). Busy individuals are less interested in long-term restaurant visits, which potentially increases the turnover figures. They pick up their orders via drive-through windows, takeaway options or deliveries. From a scaling standpoint, this means that Dunkin Donuts can serve more consumers per hour since they do not occupy restaurant seats and are willing to collect their purchases and consume them elsewhere. In light of the recent COVID-19 pandemic, this approach has proven effective and opened new ways of ensuring the loyalty of clients by introducing the mechanisms of scheduled pick-up options. As consumers can collect their orders at a particular time, this increases their convenience and allows the restaurant to better plan its workload during different periods of the day (Palmatier et al., 2019). Their preferred use of Dunkin Donuts as a place for getting their breakfast or lunch meals also implies that they may be willing to regularly order deliveries to their office from nearby outlets or collect takeaway orders personally on a regular basis.
Positioning
Dunkin Donuts positioning is largely embedded in its earlier discussed marketing mix and its branding strategy discussed further (Turban et al., 2021). The brand presents itself as a provider of high-quality products in its niche that also have an affordable price. This combination makes them convenient for busy people in the US and all over the world. According to Bucholz (2023), 20% of Americans drink coffee on the go on a daily basis with 24% of them doing so several times a week. From the standpoint of a middle-income person, this makes a combination of price and quality a crucial factor stimulating regular repeat purchases. As opposed to premium-priced brands such as Starbucks and lower-ranked brands serving cheap coffee, Dunkin Donuts has a middle-of-the-road positioning making it a go-to option for the majority of people in its targeted audiences (Ahmed, 2021). However, this factor may vary in other countries than the US where the ratio of on-the-go beverage prices to medium salaries for busy employees may differ.
Figure 2: How Many Cups of Coffee Do Americans Drink Each Day?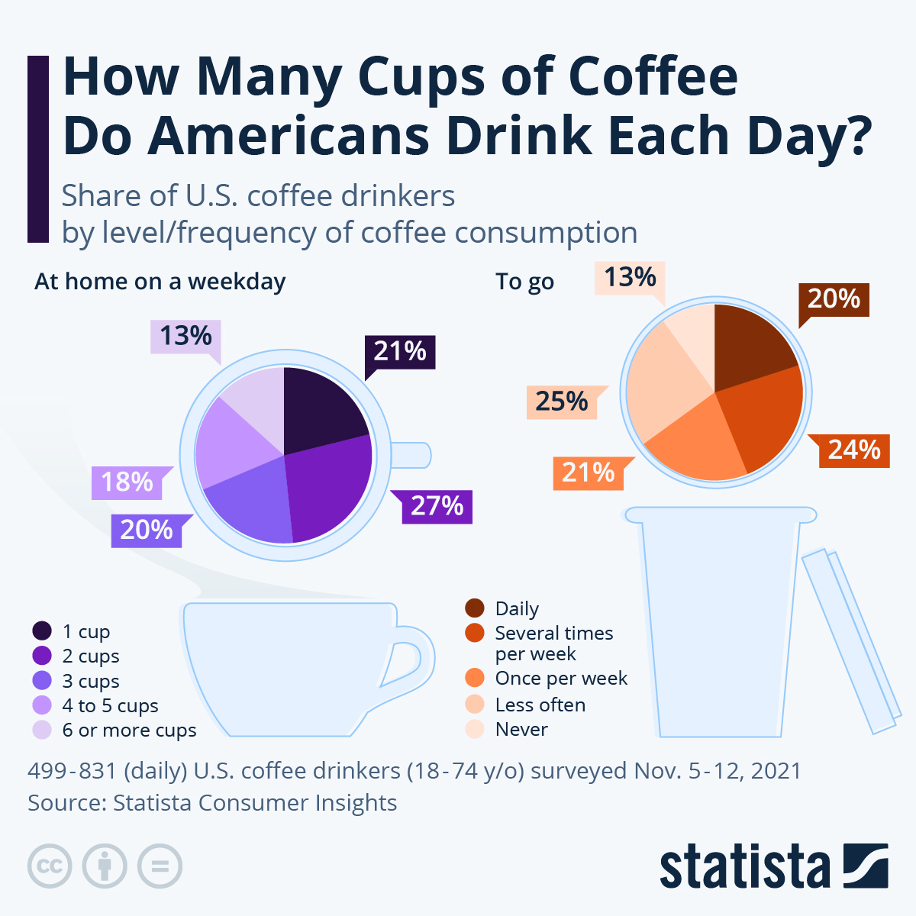 Source: Bucholz (2023, n.p.)
Branding Strategy
The second element used in the market analysis of Dunkin Donuts is the Brand Prism model by Kapferer (2008). This instrument explores six main dimensions that help businesses build a strong image and representation in their niches and effectively communicate their message and positioning to the targeted groups of customers.
Figure 3: Kapferer's Brand Prism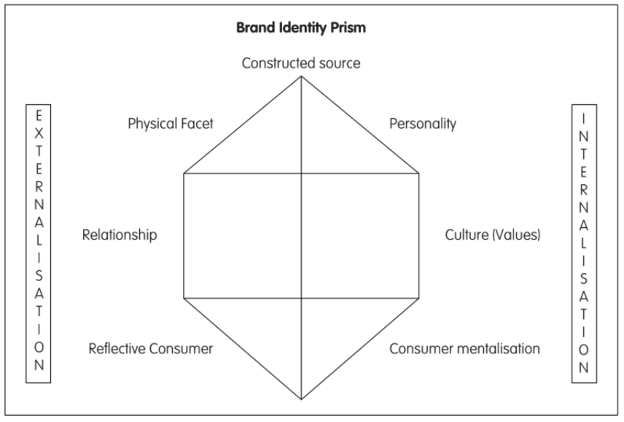 Source: Egan (2022, p.101)
Physique
In terms of physique, Dunkin Donuts has an instantly recognisable logo and brand colours (Meunier, 2021). They support its large range of offerings suitable for coffee and pastry lovers as well as consumers looking for healthier snacks and vegetarian menu options. The brand also makes it easy to experience it by offering its products in multiple locations as well as takeaway, drive-thru, and delivery channels for maximum customer convenience.
Personality
Dunkin Donuts presents itself as a 'working man's fast food restaurant' offering high-quality coffee and snacks at affordable prices to busy individuals lacking time (Rosenberg, 2020). This makes it a go-to place for purchasing a 'quick fix' for a missed breakfast at home or a good option for regular lunch break visits. This down-to-earth personality makes the decision to buy some products from this brand a low-involvement one due to the low prices of its products and the ease of obtaining them.
Culture
Dunkin Donuts seeks to achieve high standards of customer service and speed up the provision of ordered foods and beverages to its clients (DD, 2023b). The main values promoted by this brand is transparency, humility, honesty, and integrity. It main mission is to stay loyal to company customers by learning more about their preferences and doing one's best to address their diverse needs.
Relationship
Dunkin Donuts is interested in building long-term relationships with its customers, which is reflected in well-developed loyalty programmes (Boone et al., 2019). As opposed to premium restaurants, this company seeks to stimulate regular repeat visits rather than single-time purchases. This strategy is realised by the provision of high-quality products at affordable prices and the maximisation of consumer convenience. As a result, Dunkin Donuts is 'always there for its customers' whatever type of purchasing channels they prefer.
Self-Image
Consumers purchasing products from Dunkin Donuts perceive themselves as avid coffee lovers who are also careful of their money and their budgeting (Fahy and Jobber, 2022). They seek to acquire high-quality offerings at reasonable prices, which allows them to enjoy their favourite drinks more often without compromising their monthly budget. Dunkin Donuts customers can be called 'convenience seekers' and 'variety seekers' as they have a choice of 50+ doughnut tastes with regular seasonal specials that they can experiment with using the most convenient purchase channels.
Reflection
The stereotypical customer of Dunkin Donuts is a hard-working individual interested in 'keeping on running' (Hackley and Hackley, 2021). This person has sufficient income to afford premium offerings in many spheres but also pursues the concept of frugality and does not like wasting money on overpriced products and services. Dunkin Donuts fits the optimal price-quality ratio for this customer due to its affordable and diverse range of beverages and snacks. This keeps this client coming back for more to re-purchase their favourite offerings or experiment with new ones since such purchase decisions are low-investment ones due to their low costs.
Conclusion
Dunkin Donuts is using a complex marketing approach based on a combination of its marketing mix choices, STP strategies, and branding strategies to reach its targeted audiences (Ahmed, 2021). While its competitive vision can be described as cost leadership, it is not perceived as a 'cheap' offering due to its projected company image and its good alignment with the values and self-reflection of its customers. As a result, this brand is perceived as a good choice for consumers interested in high-quality products at an affordable price that 'keep them running' day after day (Turban et al., 2021). The STP choices further support this focus by integrating loyalty programmes stimulating repeat purchases and making Dunkin Donuts a suitable place for regular visits even for people on a tight budget. With the company being primarily focused on the US market where 20% of local consumers purchase coffee on the go every day, this ensures its good growth rates (Bucholz, 2023). The focus on prompt execution of takeaway and delivery orders also helped it survive the COVID-19 pandemic and emerge more effective as many new customers recognised the advantages of these purchase channels.
References
Ahmed, J. (2021) Business Management and Leadership Strategies: How to Lead and Succeed in the Competitive Market, New York: Notion Press.
Alon, I., Jaffe, E., Prange, C. and Vianelli, D. (2020) Global Marketing: Strategy, Practice, and Cases, London: Routledge.
Badi, K. (2018) "The Impact of Marketing Mix on the Competitive Advantage of the SME Sector in the Al Buraimi Governorate in Oman", [online] Available at: https://journals.sagepub.com/doi/full/10.1177/2158244018800838 [Accessed on 11 February 2023].
Boone, L., Kurtz, D. and Bersto, S. (2019) Contemporary Business, Hoboken: John Wiley & Sons.
Bucholz, K. (2023) "How Many Cups of Coffee Do Americans Drink Each Day?", [online] Available at: https://www.statista.com/chart/19524/cups-of-coffee-drunk-by-americans-per-day/ [Accessed on 10 February 2023].
DD (2023a) "Dunkin' Donuts Opens 12000th Restaurant Worldwide", [online] Available at: https://news.dunkindonuts.com/news/dunkin-donuts-opens-12-000th-restaurant-worldwide-in-riverside-california [Accessed on 11 February 2023].
DD (2023b) "Dunkin' Once Again Named #1 Brand for Customer Loyalty", [online] Available at: https://news.dunkindonuts.com/blog/blog_custom-20190204-6741988 [Accessed on 11 February 2023].
Egan, J. (2022) Marketing Communications, London: SAGE.
Fahy, J. and Jobber, D. (2022) Foundations of Marketing, New York: McGraw Hill.
Gillespie, K. and Swan, S. (2021) Global Marketing, London: Routledge.
Goldstein, B. (2019) Entrepreneurial Marketing: A Blueprint for Customer Engagement, London: SAGE.
Hackley, C. and Hackley, R. (2021) Advertising and Promotion, London: SAGE.
Kapferer, J. (2008) The New Strategic Brand Management: Creating and sustaining brand equity long term, London: Kogan Page.
Khandelwal, K., Jakhar, T. and Khandelwal, T. (2020) "Segmentation, Targeting and Positioning", International Research Journal of Engineering and Technology, 7 (5), pp. 1-6.
Kotabe, M. and Helsen, K. (2022) Global Marketing Management, Hoboken: John Wiley & Sons.
Kuncoro, W. and Suriani, W. (2018) "Achieving sustainable competitive advantage through product innovation and market driving", Asia Pacific Management Review, 23 (3), pp. 186-192.
Meunier, K. (2021) Marketing: A Very Short Introduction, Oxford: Oxford University Press.
Palmatier, R., Sivadas, E., Stern, L. and El-Ansary, A. (2019) Marketing Channel Strategy: An Omni-Channel Approach, London: Routledge.
Pride, W. and Ferrell, O. (2019) Marketing, Boston: Cengage Learning.
Pride, W. and Ferrell, O. (2021) Foundations of Marketing, Boston: Cengage Learning.
Rosenberg, R. (2020) Around the Corner to Around the World: A Dozen Lessons I Learned Running Dunkin Donuts, London: Harper Collins.
Sandria, W., Kusumawati, T., Reza, V. and Purwati, A. (2022) "An Analysis of the Impact of Promotion Strategies on Buying Decision and Buying Amount on Dunkin' Donuts Jambi", International Journal of Economics Development Research, 3 (2), pp. 1-10.
Solomon, M. Marshall, G., Stuart, E., Barnes, B., Wayne, V. and Tabrizi, W. (2019) Marketing, London: Pearson.
Statista (2023) "Number of Dunkin' Donuts stores worldwide from 2007 to 2019, by region", [online] Available at: https://www.statista.com/statistics/291462/distribution-points-dunkin-donuts/ [Accessed on 10 February 2023].
Turban, E., Pollard, C. and Wood, G. (2021) Information Technology for Management: Driving Digital Transformation to Increase Local and Global Performance, Growth and Sustainability, Hoboken: John Wiley & Sons.
Wided, B. (2021) Youth Marketing to Digital Natives, New York: Edward Elgar Publishing.