1. Introduction
According to Statista (2023a), the global sportswear market size amounted to 366 billion USD in 2021 and is expected to grow by 25% or more by 2027. While this trend may seem controversial to the decline in physical gym visits, the pandemic period has led to a boost in home training popularity. Additionally, millions of people have gotten used to wearing comfortable apparel items. This raised interest towards the concept of 'athleisure' clothes that people can wear both during their training sessions and during their daily routines (Boone et al., 2019). The brands that could capitalise on this trend may experience a major growth in revenues over the next several years. This essay explores the future perspectives of the Gymshark brand and aims to identify the key implications that may determine its capability to use the aforementioned opportunities.
2. Company Background
Gymshark is a UK brand manufacturing fitness apparel, accessories, and sports equipment founded in 2012. In 2020, this organisation's estimated value amounted to more than £1 billion (FT, 2020). Since its start, the brand embraced the concept of digital marketing and has been using social media and other online channels to promote and distribute its offerings. It is focused on direct sales to its consumers across the world and presently has a reach of 180 countries (Cook, 2020). The largest markets of presence include the US, China, and the UK. Its marketing strategy is based on the use of social media influencers and may be deemed highly successful since Gymshark presently has more than 5.1 million Instagram followers (Instagram, 2023). In comparison with other competitors, the growth rates of this company's sales may be viewed as extraordinary since it has reached a value of £1+ billion in the first eight years of its existence. With that being said, there have been multiple attempts to 'cancel' the brand due to the perceived lack of diversity support, body-positive messages, and controversial statements of some of its influencers (Gharib, 2020). While Gymshark took reasonable action to address such attacks, some users consider this response 'virtue signalling', which may pose a problem in the future.
3. Gymshark Analysis
From a financial standpoint, Gymshark has excellent indicators with its annual revenue exceeding £261 million and its market value being more than £1 billion (Statista, 2023c). It is private-owned with its founder Ben Francis being the majority owner. This means that all strategic decisions can be made by a visionary entrepreneur rather than a board of directors acting in the interests of shareholders. Hence, the company can focus on long-term goals even if this means reducing its revenues in the short-term period, which is not available to many public companies. The company also has strong digital marketing capabilities allowing it to reach its audiences across the globe and effectively identify their emerging needs and expectations (Hanlon, 2021). It has excellent social media engagement figures and largely relies on earned media rather than paid or owned media. The use of influencer marketing also ensures the capability to reach specific customer segments sharing certain values and visions. As opposed to traditional offline retail, this approach maximises their capability to 'hear their consumers' and promptly react to any emerging trends.
As shown in the SWOT analysis below, the current business model of Gymshark has both positive and negative aspects in terms of its capability to capitalise on the increasing global interest in sportswear products (Fahy and Jobber, 2019). First, it has a well-recognised brand with a good niche positioning based on a well-designed segmentation, targeting, and positioning strategy. However, this also makes its marketing efforts dependent on influencers and relatively small consumer groups. If Gymshark loses access to them due to some new public scandals, this will render most of its promotional operations ineffective. Second, the company has a relatively small range of offered products with relatively limited customisation options (Ozuem and Willis, 2022). While it utilises user-generated content and ideas to show its recognition of its consumer communities, this may not be sufficient for capitalising on the trend of 'casual sportswear' and expanding into this niche.
Third, Gymshark entirely relies on remote orders performed via digital channels (Pilkington, 2021). On the one hand, this strategy was well-suited for COVID-period sales mechanisms where physical visits to stores were prohibited. In the post-pandemic environment, remote shopping can also be lucrative to some customers willing to save time. On the other hand, the generic competitive strategy of Gymshark can be described as differentiation rather than cost leadership (Marr, 2021). It offers high-quality products with unique and trendy designs promoted by niche influencers, which is reflected in their premium pricing. While this excludes the brand from direct competition with mass-market rivals such as Nike, Puma or Under Armor, this also makes such purchases a high-involvement decision for many consumers. The inability to physically experience some brand offerings is a major barrier to sales finalisation in the world of luxury products marketing according to Ko (2020). Hence, the absence of offline stores may also be seen as a limitation limiting the marketing reach of Gymshark.
Figure 1: SWOT analysis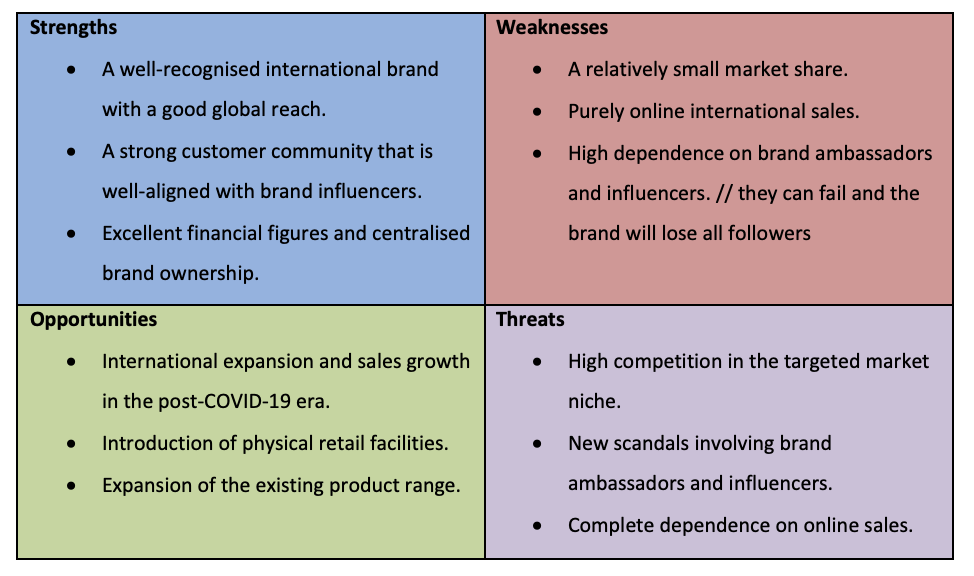 Based on: Glenister (2021, p.113); Solomon et al. (2017, p.336); Statista (2023a, n.p.); Statista (2023c, n.p.)
As shown by Porter's Five Forces analysis below, Gymshark is operating in a highly competitive market environment (Stevens, 2022). While it presently enjoys good recognition, it does not have the bargaining power and economies of scale available to its mass-market competitors such as Nike. If its consumers get dissatisfied or disenchanted with its offerings, this can easily disrupt its global success within the scope of the differentiation competitive strategy.
Figure 2: Porter's Five Forces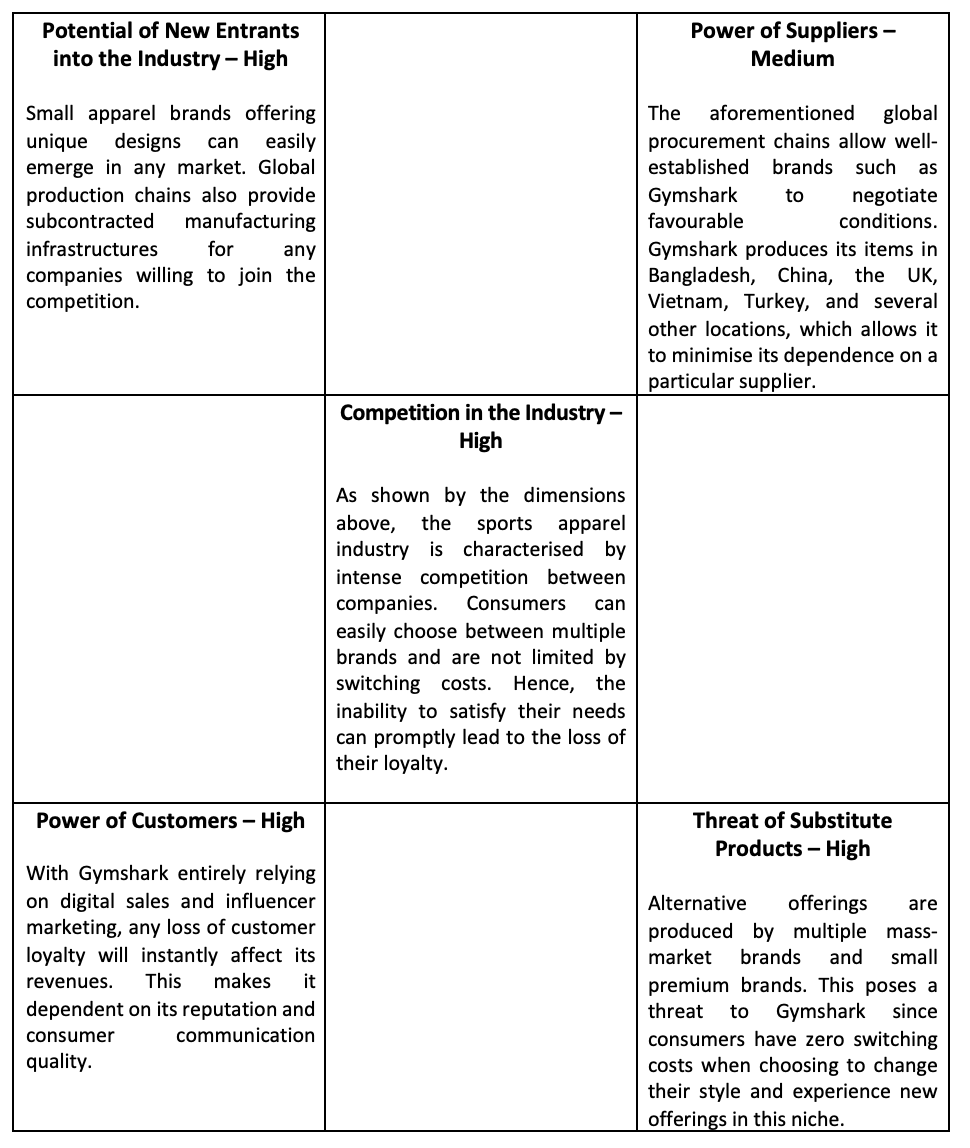 Based on: Clegg et al. (2021, p.78); Hameide (2020, p.40); Hitt et al. (2019, p.247); Yip (2020, p.112)
4. Potential Future Perspectives
As suggested by Yahoo's market report on global activewear, this industry is expected to grow manifold between 2022 and 2028 (YahooFinance, 2022). North America is expected to be the most profitable region in the world due to the growing demand for fashionable clothing supported by substantial disposable income figures. At the same time, the graph below also suggests that these positive trends will be evident in most global markets (Statista, 2023b). This implies that there exists a window of opportunity that can be utilised by Gymshark to achieve substantial growth in multiple markets of presence. However, it needs to act fast before these advantages are utilised by its rivals in the highly competitive industry of activewear and sportswear analysed earlier.
Figure 3: Activewear Market Growth Predictions Between 2020 and 2027 (Billion USD)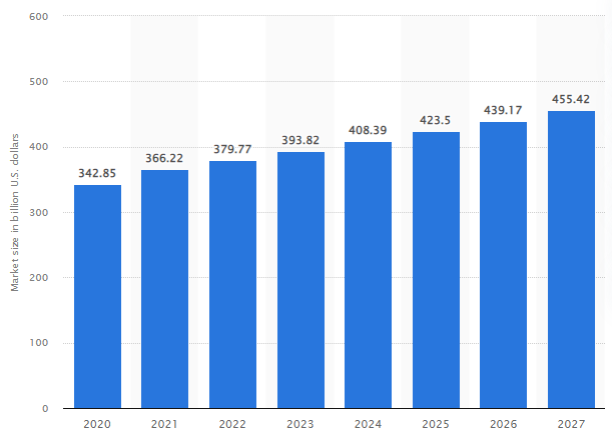 Source: Statista (2023b, n.p.)
5. Recommendations
The conducted analysis of Gymshark's weaknesses and strengths as well as the opportunities and threats presented by the global environment this brand operates in has informed a number of practical recommendations provided below. First, the opening of the first offline stores by the company may be deemed as an opportunity to mix its online and offline distribution channels (Boone et al., 2019). Since it effectively positions itself as a luxury sportswear brand using the differentiation competitive strategy, it needs to maintain a physical presence to convince some customers. This does not require the use of wholly owned subsidiaries as the preferred market entry mode since Gymshark may find local partners and use exporting as a way of reaching key foreign markets such as the US or combine several internationalisation methods (Hanlon, 2021).
Second, the analysed brand may improve its relationships and communication with customers via greater utilisation of user-generated content and product customisation and personalisation options (Glenister, 2021). Such features will allow customers to become emotionally invested in such consumer-brand collaborations and develop higher degrees of loyalty. Third, Gymshark needs to expand its range of offerings with new lines specifically targeting consumers interested in 'athleisure' clothes rather than purely sportswear (Hameide, 2020). This will expand its targeting to include customers interested in using apparel items for their routine indoor and outdoor activities. From a sales standpoint, this may allow Gymshark to substantially increase its marketing reach by focusing on regular users who are not actively involved in sports-related activities. The good recognition of this brand implies that such a move into the luxury apparel category may be viable for it and can bring real benefits due to the 'athleisure' trend.
Fourth, Gymshark may need to focus its marketing efforts on the US market that it entered several years ago. The trends appraised by Statista (2023a), Statista (2023b), and YahooFinance (2022) imply that this region may demonstrate some of the highest growth rates in terms of 'athleisure' and sportswear adoption in the following several years. Considering the relatively small size of Gymshark in comparison with its mass-market rivals, the concentration of efforts may be deemed more effective than the attempt to simultaneously succeed in the Chinese, EU, UK, and US markets. While the first one may seem lucrative, multiple western brands including M&S, Home Depot, eBay, and many others failed in their attempts to enter it in the past (Hitt et al., 2019). On the contrary, the US market may be deemed culturally similar to the markets Gymshark presently operates in. This will allow it to use riskier entry methods with a greater degree of control such as wholly owned subsidiaries. At the same time, the earlier suggested expansion in other markets can still be achieved by finding local exporting partners such as major apparel item retailers to provide physical experience for doubtful prospective consumers.
6. Conclusion
It can be summarised that Gymshark has a good competitive standing in its selected niche with its earlier growth rates and its ownership structure providing the required resources for its future strategic decision-making flexibility (Statista, 2023a). With that being said, it is still affected by a number of internal weaknesses such as its dependence on influencers and a relatively narrow customer segment. These problems can be addressed by utilising emerging opportunities such as the rapid growth of the global 'athleisure' industry. This allows sports apparel brands to target both athletes and regular consumers looking for high-quality casual fashion items (Clegg et al., 2021). On the one hand, a focus on a single market as its key internationalisation priority may allow it to capitalise on the fastest-growing national market while using exporting as a low-control method for building a physical presence in other regions of interest. On the other hand, Gymshark can revise its presently utilised methods of marketing communication and consumer relationship building (Yip, 2020). More specifically, the introduction of personalisation and customisation options can increase a sense of engagement and perceived 'switching costs. In combination with physical presence development, these measures may convince doubtful prospective customers to experience the Gymshark brand despite its high prices and limited availability.
References
Boone, L., Kurtz, D. and Berston, S. (2019) Contemporary Business, Hoboken: John Wiley & Sons.
Clegg, S., Pitsis, T. and Mount, M. (2021) Managing and organizations: An introduction to theory and practice, London: SAGE.
Cook, J. (2020) "How Gymshark Became A $1.3 Billion Brand, And What We Can Learn", [online] Available at: https://www.forbes.com/sites/jodiecook/2020/08/17/how-gymshark-became-a-13bn-brand-and-what-we-can-learn/?sh=29f2785176ed [Accessed on 26 January 2023].
Fahy, J. and Jobber, D. (2019) Foundations of Marketing, 7th ed., London: McGraw Hill.
FT (2020) "Clothing brand Gymshark becomes UK's newest £1bn start-up", [online] Available at: https://www.ft.com/content/6122628d-a309-4c33-a664-3fc799b0dee8 [Accessed on 25 January 2023].
Gharib, S. (2020) "The Surprising Link Between Fitness and Racism", [online] Available at: https://medium.com/equality-includes-you/the-surprising-link-between-fitness-and-racism-866039cec2ae [Accessed on 26 January 2023].
Glenister, G. (2021) Influencer Marketing Strategy: How to create successful influencer marketing, London: Kogan Page Publishers.
Hameide, K. (2020) Managing Fashion: A Management Perspective, London: Routledge.
Hanlon, A. (2021) Digital marketing: strategic planning & integration, London: SAGE.
Hitt, M., Ireland, R. and Hoskisson, R. (2019) Strategic management: Concepts and cases: Competitiveness and globalization, Boston: Cengage Learning.
Instagram (2023) "Gymshark", [online] Available at: https://www.instagram.com/gymshark/reels/?hl=en [Accessed on 26 January 2023].
Ko, E. (2020) "Luxury Brand Advertising: Theory and Practice", International Journal of Advertising, 39 (6), pp. 757-760.
Marr, B. (2021) Business Trends in Practice: The 25+ Trends That Are Redefining Organizations, Hoboken: John Wiley & Sons.
Ozuem, W. and Willis, M. (2022) Digital Marketing Strategies for Value Co-creation, Berlin: Springer.
Pilkington, M. (2021) Retail Recovery: How Creative Retailers Are Winning in Their Post-Apocalyptic World, London: Bloomsbury Publishing.
Solomon, M., Marshall, G. and Stuart, E. (2017) Marketing: Real People, Real Choices, New York: Pearson.
Statista (2023a) "Activewear in the U.S. - statistics & facts", [online] Available at: https://www.statista.com/topics/7765/activewear-in-the-us/#topicOverview [Accessed on 25 January 2023].
Statista (2023b) "Size of the activewear market worldwide from 2020 to 2027", [online] Available at: https://www.statista.com/statistics/613169/size-of-the-global-sportswear-market/ [Accessed on 25 January 2023].
Statista (2023c) "Annual turnover of Gymshark LTD from the financial year of 2017 to 2021", [online] Available at: https://www.statista.com/statistics/1174048/turnover-of-gymshark-ltd/ [Accessed on 26 January 2023].
Stevens, M. (2022) The Direct to Consumer Playbook: The Stories and Strategies of the Brands that Wrote the DTC Rules, London: Kogan Page Publishers.
YahooFinance (2022) "Global Activewear Market Report (2022 to 2028) - Rising Popularity of Contemporary Apparel in the Gym and for Everyday Activities is Driving Growth", [online] Available at: https://finance.yahoo.com/news/global-activewear-market-report-2022-190000641.html [Accessed on 25 January 2023].
Yip, J. (2020) Latest Material and Technological Developments for Activewear, Cambridge: Woodhead Publishing.