8 Rules for Living in Student Halls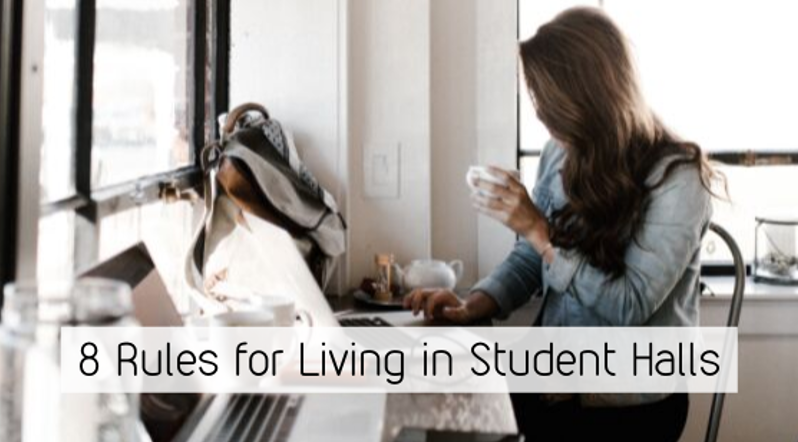 It's getting closer and closer to the day you start university and trying to prepare can extremely overwhelming. Moving into student halls and starting university bring their own challenges.
There is nothing to worry about because university is exciting and full of possibility. So, here are some simple, easy to follow rules that you need to know before you set foot in student halls.
Appreciate Move in Day
Do not underestimate the emotional weight of move in day. It could be a while until you see your parents and it should be appreciated. Go for dinner, explore the local area together and have a little quiet time before the crazy starts.
Make Friends
Probably one of the most important things at university is to make friends. They don't have to be your flat mates, they don't have to be people on your course either; find people you connect with to be your new support system and family.
Label Everything
Some people have no boundaries, other people are forgetful. So if you don't want to wake up in the morning with an angry post-it on your fridge about the missing pizza, stick to your own things. Everything from food to clothing, toiletries to electronics, make it clear it's yours.
Cleaning
Make a collective rule with your flat mates about the washing up and cleaning schedule. It can cause a lot of friction between house mates, which you don't want. Therefore, clean up after yourself, do your washing up and try to not get too worked up about others leaving theirs.
Flip Flop Protection
If you aren't fortunate to have your own, on-suite bathroom then prepare to be horrified. Shared bathrooms are not going to be pretty, especially not with students. So take your flip flops, if you can clean up after yourself as much as possible and whatever you do, do not touch the plug hole!
Prepare For a Midnight Alarm
Someone smoking in their room or just too much hairspray, be prepared for the fire alarm to go off at an unbelievable time of day at least once. keep your slippers and dressing gown near by and be excited to see some interesting sleep attire from your fellow students.
Noisy Neighbours
Some people have no respect for others and whether it is paper thin walls, single glazed windows, early in the morning or late at night… something will be going on. If you're a light sleeper, invest in some ear plugs or suck it up.
Occupy your Weekends
If you haven't got a little weekend job to see you through the weekend, find something that keeps you occupied. Maybe your friends go home for the weekend or your work load is getting you down, these two days can really change your experience at university. Have fun, maintain focus and work hard.
Follow these simple rules for student halls and enjoy your time at university instead of feeling lonely, over worked and frustrated with your flat mates.