Join our Referral Scheme
If you're a fan of our service, why not join our referral scheme to earn while you study!
Living on a student budget can be tough – we know because we've been there too. With our affiliate referral scheme, simply recommend our services to friends, family or fellow students to earn cashback every time they order!
Here's how it works:
1. Contact us at help@15writers.com to get your unique 5% discount code. 
2. Recommend our services to as many people as you wish, and give them your code to use. 
3. Your friends will complete our online form and enter the code you have given them on the checkout page.
4. Once their order has been paid and confirmed, we will give you 5% cashback on the value of your friends order.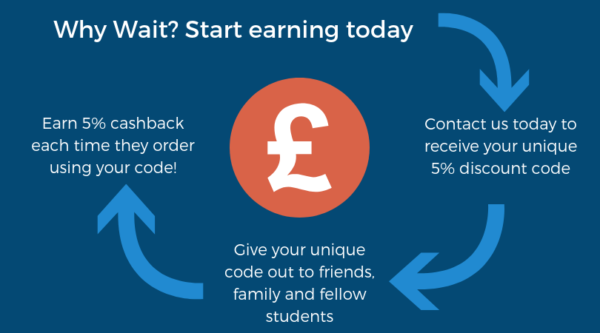 How can you make the most of our referral scheme?
The easiest way to earn more with our referral scheme, is to recommend our services and give your code out to as many people as possible. 
Below are some of the easiest ways to get your referrals out:
Share on social media - you can share your code on any social network, particularly if your followers are students.

Leave your code on blogs or student forums.

At University - if you hear anyone complaining that they are struggling with University work, why not recommend us and give them your code? Make a new friend and a potential for earning.
Questions? 
If you have any questions about our referral scheme, please email help@15writers.com.