Studying coming to an end, but not ready to leave the UK yet? We can't really blame you! Studying in the UK could be a great way to develop your academic career, attain experience of working with highly-skilled professors and pave the way to your first peer-reviewed publication or attaining a PhD degree. If you currently hold a Tier 4 (General Student) visa in the UK, then you can apply for an academic progression visa. The below guidelines will give you a brief explanation about the complete visa extension procedure in the UK through education or by completing another degree.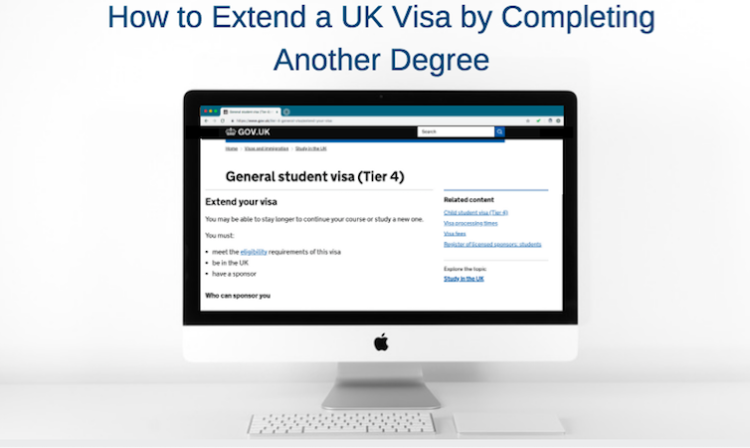 Check Whether You Can Make Your Application without Leaving the UK
The first stage of extending your visa is checking whether you're able to submit your new application without leaving the country. Submitting the application while you're still in the UK is a much simpler process than doing the same thing in other countries. The current official guidelines state you must fulfil the following criteria.
Providing biometric information (your fingerprints and a photograph).
Having a sponsor.
Meeting the eligibility criteria for the extended visa.
While this list may seem a bit scary (particularly, the part about having a sponsor), it's quite easy to meet all three criteria. An important thing to remember is that only four types of entities could be your sponsor, namely domestic/foreign higher education institutes, an embedded college, and an independent school. The easiest way to ensure you have the right sponsor is to continue studying at the same university that you've studied before. For example, you can proceed from a Bachelor's degree to a Master's qualification or switch your area of expertise altogether. Before you submit your application, make sure to receive a formal document documenting your sponsorship.
There's a small caveat if you're trying to get your extension when applying for a new course. In order to apply for a visa for a new course from within the UK, it is essential that the start date of the new course should not be more than 28 days after the expiry date of your current visa. If the gap between the start date of your new course and the expiry date of your current visa extends beyond 28 days, then you must find another legal way to stay in the UK while you wait for your extension permits.
When to Apply and Time Limits
Getting a visa extension is not just a question of submitting the right documents. Government officials state that you can submit your Tier 4 visa application minimum 3 months before the start of your new course. If you are continuing the same course, the visa application needs to be submitted 3 months before the expiry of the current visa. Before applying for academic progression, make sure you have the correct documents and enough funds in your bank account to support your visa application. All international students in the UK are responsible for their own immigration status and are advised to understand the visa procedures thoroughly. Failure to meet the immigration requirements might result in penalties and loss of your visa.
They're also time constraints on the amount of time your Tier 4 extension would remain valid in case you attain a successful extension. Typically, your extension application must specify that your studies would only take 5 years or less, otherwise, your request would be considered invalid. Nonetheless, there are a number of exceptions that you may benefit from.
If you've already completed an undergraduate degree in the UK, the time limit extends to 6 years.
If you have specific degree-level courses that could take more than 5 years, you could get an extension for 5 years and 11 months.
Post-doctorate students get an automatic extension to 8 years.
Specific areas of expertise (e.g. veterinary medicine) are either fully exempt from the time limit or could extend the limit to 6 years or more.
While all of this sounds complicated, the main thing to remember is that you should always check the amount of time required to attain your future degrees and look for any individual exceptions that could apply to your area of expertise.
Requirements for a Tier 4 Visa Extension
Fortunately, the actual list of requirements for an extension is relatively brief. As you've already applied for a UK student visa before, you should be highly familiar with what's required. Students already studying in the UK with a Tier 4 visa can normally apply for the extension of their visa only after the successful completion of their course, if they are aiming to pursue a course at a higher academic level. For example, if you have successfully completed an undergraduate course, then you can apply for a visa for your master's degree. Similarly, if you have successfully completed your master's course, you can apply for a visa for a DPhil or PhD course.
However, a student cannot switch to another course without completing the original course for which the Tier 4 visa was granted and cannot apply for a visa extension to get more time for the completion of the new course they want to switch to. In order to fulfil the requirements for academic progression while staying in the country, a student needs to provide proof of course completion in the form of degree certificate, a formal written confirmation from the university or a final academic transcript. This means that you should always check whether you're meeting your academic deadlines, particularly those for your final dissertations and coursework. Studying regularly and submitting all academic work on time may be the difference between successfully completing a course and getting an extension, and returning to your original country of residence.
For students planning to join a new course at the same academic level, ensure that the course either complements your current course, involves deeper specialisation or supports the career aspirations to meet the requirements for Tier 4 visa extension. If a student wants to apply for a visa extension for the completion of a DPhil course by repeating a section of the course, then academic progression documents might not be required. Although this part of the requirements seems kind of murky, many universities in the UK offer application checking services. After showing your extension application to the people at your university, you should receive comprehensive feedback on whether you're meeting all the requirements and what could be done to improve your chances of getting an extension. Don't worry, the academic staff should be eager to help and explain the process in more detail.
Obtaining a Confirmation of Acceptance for Studies (CAS)
In order to document your eligibility to study in a particular university in the UK, you would need to attain a Confirmation of Acceptance for Studies (CAS) number. CAS is automatically assigned to students starting a new course, up to 4 months prior to the start date of the course. Nevertheless, it is essential for the students to pay for the necessary deposits and hold an unconditional offer of study to be eligible for CAS. Students applying for visa extension for the continuation of the current course or the duration of reassessment will also need a new CAS number from the university. Luckily, requesting a new CAS should be very easy if you do it in advance. Currently, universities in the UK recommend attaining a new CAS at least 10 working days before your visa expires. Note that a CAS number is valid for a period of 6 months after being issued and is applicable for only one visa application. If your extension request is declined and you want to try again in the future, you'd need to request a new CAS from the university.
Obtaining an Academic Technology Approval Scheme (ATAS) Certificate
Students in the stream of science, engineering and technology might need an Academic Technology Approval Scheme (ATAS) certificate before applying for academic progression. Usually, the CAS states if a student needs to apply for an ATAS certificate and whether it can be obtained with the help of the university. An agreed research statement from the department and a list of modules from the college is mandatory for ATAS application. It is recommended that before applying for a visa extension, a student must check the need for the (ATAS) approval required to study in the UK and apply to the Foreign and Commonwealth Office at least 6 months before the visa expiry date.
An ATAS certificate might take up to 20 working days to process, so it is advisable to apply for it immediately after receiving the CAS. A student starting a new course can apply for ATAS certificate while the offer is still conditional. Also, note that the ATAS certificate received for the previous visa application will not be valid even if the course has not changed.
Paying for a Tier 4 Visa Application
A Tier 4 visa can be applied in different ways based on the type of service. The visa application services can be standard, priority or premium. The charges for each service differ as per its type, and the visa application will also be processed based on the kind of service selected. The present fees are as follows.
£475 for a basic extension request + healthcare fees.
£20 for submitting your biometric information.
Typically, the decision could take up to 8 weeks. If you don't have the time and want to speed the process up a bit, you can do that by paying extra fees.
£477 to reduce the waiting time to 10 working days.
£610 to receive the decision within one working day.
These options can be quite handy if you're running out of time on your current visa. If you want to make some radical changes to your academic career, receiving an extension as quickly as possible is also a great option.
Using the Online Application Form
You apply for a visa extension before the expiry of the current immigration permission. Luckily, there is a number of online options greatly facilitating this process. The online application is only submitted after the final online payment and can be filled by creating an online account and registering your details. Once registered, you can log in to start the application process. An online application can be saved at any point of time and can be accessed later using the account credentials. In order to protect the privacy of the applicant, an incomplete application is automatically deleted after 10 weeks of inactivity. If a student is applying for the Doctorate Extension Scheme, then there is a separate scheme for students applying for additional leave to remain in the UK after the completion of a PhD programme and is not applicable for doctoral students applying for an extension for the completion of their studies.
What's Next After Submitting an Online Application?
The application process does not stop following your online submission. Use the following check-list to ensure getting a successful extension!
Provide your biometric information.
Upload any supporting documents.
Provide copies of your passport and visa to the university.
Attend the UKVCAS appointment.
Register with the police after attaining an extension.
If your request is not approved, don't panic! Universities in the UK offer comprehensive help services to students that have not been granted an extension. By making some changes to your academic plans, you might be able to submit another application. Just remember that you should always inform your university of the results of your application.
At first, getting a visa extension seems like a difficult process. Nonetheless, the procedure is actually quite simple and requires very few supporting documents. If your university offers application checking services, you should definitely use them! The fact that the application process is online also reduces the need to keep any hard copies of your records. The main thing, though, is to not panic. By keeping to a specific schedule, making sure you're meeting the eligibility criteria and following a check-list of supporting documents, you're greatly increasing your chances of getting your visa extended. We hope that our guide has managed to clarify how the extension process goes and what steps you'd need to take to continue studying at the university you want. If you are considering to continue your education and take a Master's or PhD programme in the UK, contact our team and we will guide you throughout the entire academic process by providing excellent essay writing services.